In our rapidly evolving digital age, the need for reliable rural internet providers has escalated considerably. For those residing in the charming, yet remote, stretches of Ireland, a steadfast internet connection isn't merely a luxury – it's become an absolute necessity.
Moreover, there's a growing population of professionals transitioning to remote workspaces; students embracing online learning platforms; and families seeking some much-needed downtime in digital entertainment, such as binge-watching series or indulging in online gaming sessions.
In this article, we provide some guidance for rural homeowners and professionals so you can be better informed when considering rural internet providers.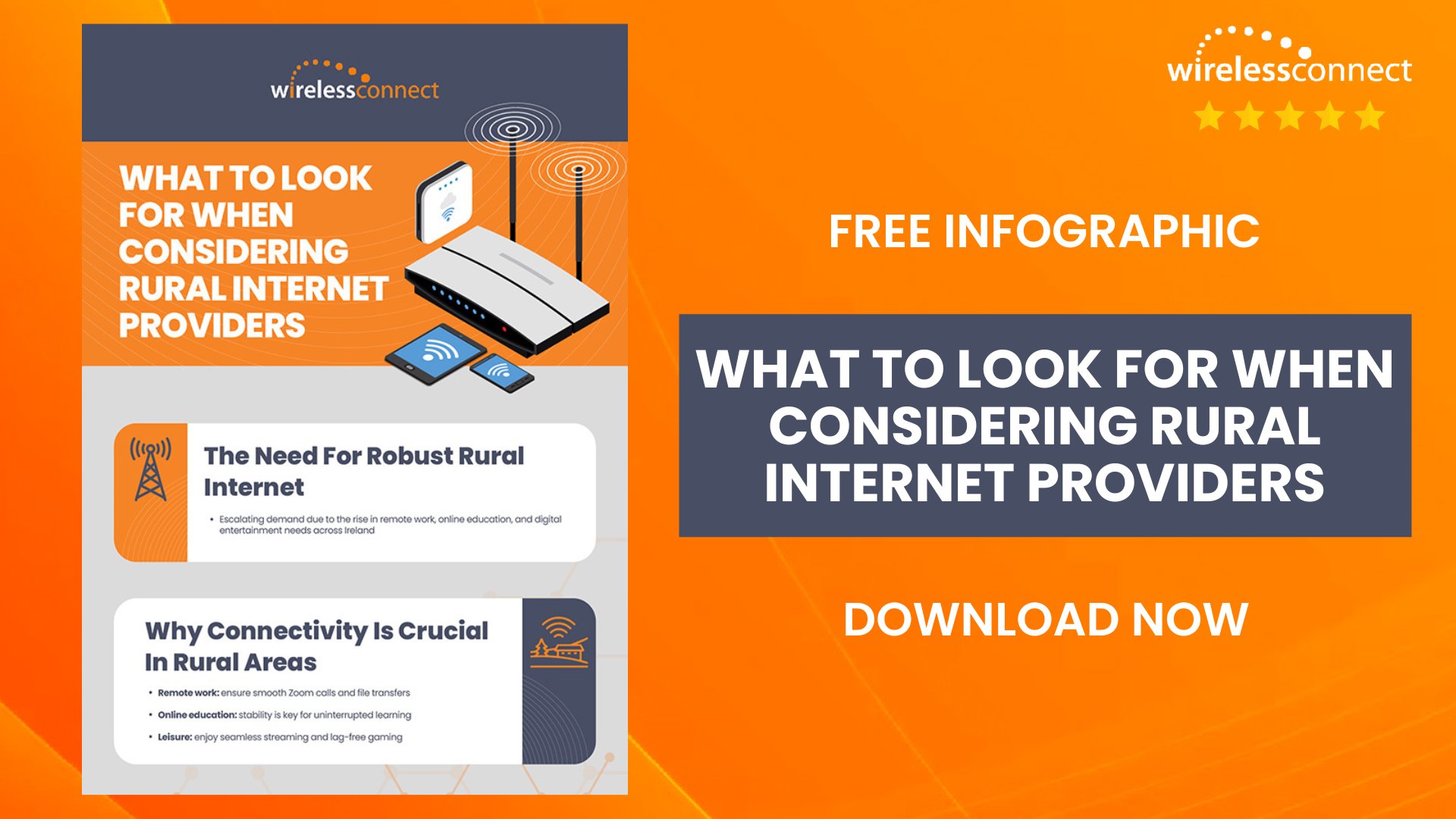 The importance of connectivity in rural areas
Rural Ireland, with its magnificent landscapes, brings with it a set of challenges not always encountered in bustling urban settings. One of the most pressing among these is the need for a robust internet connection, which is fundamental for:
Remote work: A dependable internet connection ensures that Zoom meetings proceed without hitches and that uploading or downloading files doesn't become a day-long affair
Online education: In a realm where every lesson, and every instructional video, hinges on uninterrupted internet, having a stable connection becomes the cornerstone of online learning
Leisure activities: There's nothing quite as frustrating as being on the cusp of a series finale or a pivotal video game moment, only to be stalled by buffering. Seamless streaming and glitch-free gaming are a must
Key factors to consider when considering rural Internet providers
Choosing from a sea of rural internet providers requires an in-depth analysis. Here are some of the most important features to look out for:
Speed
The term Mbps, standing for Megabits per Second, is a unit of measurement signifying the speed of data transfer over the internet. Simply put, the higher the Mbps, the quicker and smoother your online experience is likely to be. Here are some examples of optimal speed for various activities:
Working from home: For seamless Zoom or Teams calls, aim for around 3 Mbps. Handling large files? 10-25 Mbps is your target
Streaming content: Watching in HD? 5 Mbps keeps you buffer-free. For richer 4K content, 25 Mbps is king. For tunes, a steady 2 Mbps will suffice
Online gaming: Avoid game lags with a bandwidth of between 10 and 25 Mbps, depending on the game's intensity.
These benchmarks serve as a guide to ensure your online endeavours are both productive and enjoyable. After all, the right speed can elevate your entire digital experience. Test your current speed here.
Reliability
It's all well and good having super-fast internet, but if it's down when you need it most, its value diminishes. The importance of consistent uptime cannot be stressed enough. A valuable tip? Check if providers have backup systems in place to mitigate interruptions.
Cost
Weigh the immediate costs against the recurrent monthly fees. It's also prudent to be on the lookout for less obvious charges, such as those for installations, equipment hire, or potential cancellation fees. On occasion, opting for bundled services may end up being more pocket-friendly.
Coverage
Avail of tools or maps that providers offer to ascertain the reach of their service in your vicinity. Scrutinising the strength of the signal both inside and outside your home can give a rounded view of what to expect.
Customer support
Choosing a reliable internet service provider should limit any interruptions to service. However, if issues do arise, having a proficient customer support team, especially one that understands local nuances, can be a game-changer.
Flexibility
As contracts can be binding, understanding their duration and terms, and knowing if there's room for flexibility, can influence your provider choice. As circumstances evolve, so might your needs, so a provider that offers easy package modifications could be advantageous.
Key questions to ask when considering rural internet providers
Committing to a provider should only come after some thorough questioning. To ensure the right choice is made, certain questions must be asked in advance of signing a contract. Key questions to ask when include:
What do the contract terms and conditions entail?
Are there any initial setup or installation costs?
What is your policy on data caps or bandwidth throttling?
What's the typical response time for customer service queries?
Is there flexibility in upgrading or downgrading the service package?
Are the advertised promotional prices time-bound?
Rural internet providers should have user reviews
They say that "experience is the best teacher", and there is merit to this adage. Actively reading user reviews and personal testimonials can provide a clearer perspective on a provider's real-world performance.
Moreover, these shared experiences can often highlight strengths or concerns that typical marketing might not convey.
Wireless Connect is the best of all the rural internet providers in Ireland
Selecting the right rural internet provider can be a challenging task with so many aspects to consider. At Wireless Connect, we want you to make an informed decision that suits your individual needs.
We understand the unique challenges and requirements of rural Ireland. That's why our Home Broadband service is designed specifically with you in mind. We're not just about connecting homes; we're about providing a reliable, efficient, and consistently excellent service to our community.
So, if you're looking for a trusted partner in your digital journey, we're here for you. Reach out to us and let's ensure you're connected to the best the internet has to offer, right here in beautiful rural Ireland.
Also, don't forget to check out our blog and resources for more rural connectivity-related content!